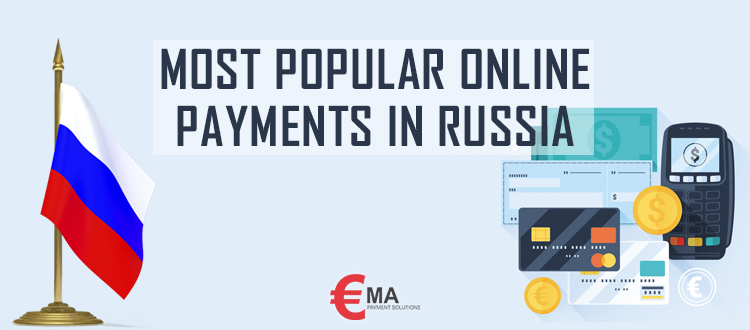 Most popular online payments in Russia
With growing popularity of online shops and services provided in Russia, business owners very often want to know which payment solutions they should incorporate. Thanks to recent report from one of the biggest research companies TNS it could be clearly seen how Russians preferred to pay for their goods and services received online in year 2015. Without going into in-depth analytics it could be said that in Russia online banking is the most popular internet payment method, where 80% of customers use it on a daily basis. After online banking Russians prefer credit cards (79% of all users), then electronic wallets (62% of all users) and then 47% of all users use SMS-payments.
Speaking directly about the payment companies, then Sberbank is leading in online banking sector, Yandex.Money is the most popular e-wallet used in Russia. Second largest online wallet Webmoney is by 5% behind Yandex.Money and is sharing third place for the most popular online payments in Russia with PayPal. It is a big success for American payment system, considering they have higher fees than Yandex.Money and Webmoney. QIWI is a bit behind others, but confidently in TOP5 with 28% of all users using their payment method to securely pay for goods or services. Here is a more detailed graph: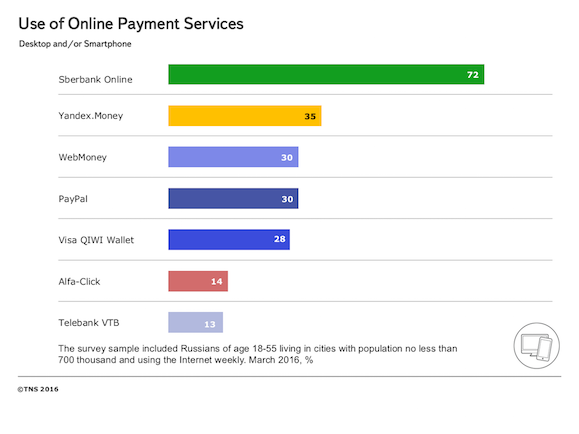 It could also be mentioned that popularity of online banking has risen in the past year by about 10-15%, whereas popularity of e-wallets has fallen a bit, because of introduction of more secure payment solutions where customer can quickly and without any additional fees pay with their bank card in any online shop. It is also interesting that TNS managed to filter all online payments made in Russia by the category. For example, 66% of all transactions online were made to pay for online shopping, but the most popular service is mobile network – with 77% of users' payment for their mobile bills online. Why would mobile network providers still have so much offline shops then? Here are other most popular categories:
Sadly, in online shopping it doesn't clearly state what people were paying for: clothes, betting, forex or groceries.
With the growing popularity of online banking apps as well as ApplePay and other similar payment solutions it is interesting to note how quickly new payment technologies adapt in Russia. Almost every second transaction online is done through the mobile phone, with obviously online banking in the lead with 61%. What is interesting to note that 49% of all users still use SMS to make their payments online.  Full representation and segregation of online payments in Russia are clearly shown below: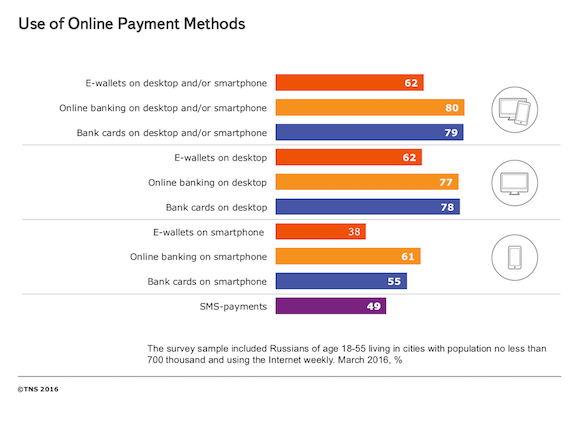 If you want to read more about Russian online payment system structure then go to our "Electronic money processing" section, where we shortly introduce the most popular e-wallets used by users in Russia (history, stats, popularity).
In case you are just gathering information on how to approach Eastern European market where Russian payment methods are very popular as well (don't forget about Ukraine, Belarus, Baltic States and Russians living in other European countries) then contact our managers to get direct payment solutions for your business. EU Merchant Account are specializing in online payment solutions and merchant accounts, so feel free to contact us.