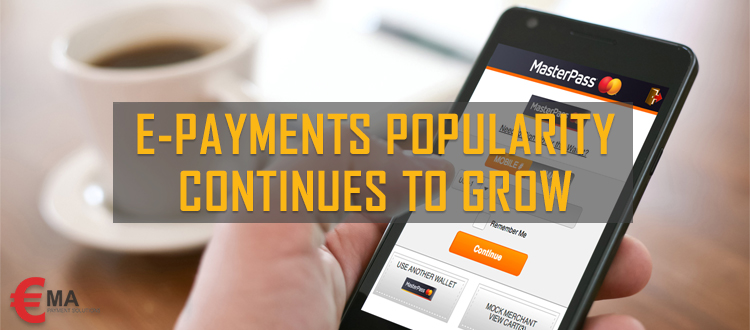 E-payments popularity continues to grow
There have recently been published several reports and news with statistical analysis about the growth of e-payments. Whereas we know about evolvement of integrated smartphone payments like ApplePay, AndroidPay and AliPay for example, then governments of countries who like to be ahead of everyone else in terms of innovations started to dig further into e-payments ecosystem.
In India alone e-payments are expected to grow by 10 times in next 4 years, thus reaching the $500 billion turnover by 2020 or 15% of the country's GDP. Boston Consulting group made such predictions based on the information from Google about the number of active internet users in India. By 2020 country's active users base should reach 500 million and half of them will be doing e-payments on a monthly basis. Considering the growth of mobile wallets number and number of smartphone users expected number could be reached even earlier than in 4 years. Here are some other numbers which consultants shared with the journalist: Indian citizens have more than 26 million credit cards and around 700 million debit cards, but there is only 1.5 million POS-terminals at the shops which can actually accept card payments. Numbers are shocking, but payment industry in India is growing every day, for example, number of debit cards transactions grew by 43% compared to last year. India could easily be compared with Brazil, which is far ahead in online and card payments, as for example they have more than 5 million sale terminals, which is three times greater than in India. Same goes about cash machines (ATMs), India has 200,000 of those and Brazil as 400,000. But India could make a big step forward by switching straight to mobile payments, considering the number of tech savvy citizens that is very possible.
One of the PwC (professional consultancy agency) FinTech leaders said that "Given the underlying infrastructural issues in emerging markets, there needs to be a focus on developing the infrastructure both for issuing and acceptance of payments products and instruments. Alternate payment instruments and modes like mobile wallets, virtual cards and accounts, social media and contactless payments are gaining traction for specific use cases, especially the unbanked customer base, driven by technology, customer needs and declining margin."
E-payment popularity continues to grow due to the fact that more and more young people under age of 30 are looking at bank payment alternatives. Times when person has only one bank account are in past, and youngsters are looking at opportunities with mobile wallets and other electronic money providers. Look at the trend of digital banks and other financial institutions who don't have a physical office for client needs, because more than 75% of all e-transactions are done by population of under 30. In addition, those "under 30s" who make online payments account for around 70% of the gross merchandise value.
Future is big and it is here, and if you want to get involved contact our managers, who can help you to acquire merchant account or online payments gateway for your business no matter if you are from India or Brazil we have wide experience in providing high quality service to clients from all over the world.