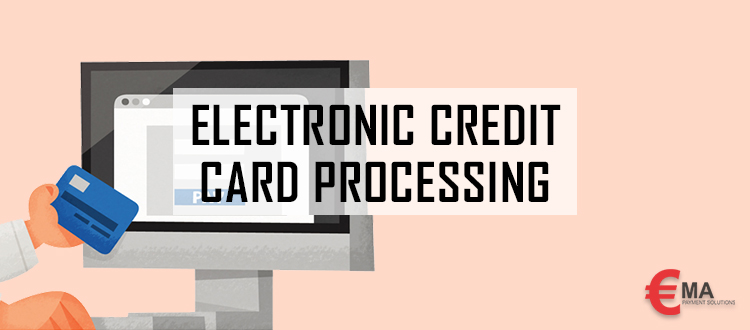 Electronic credit card processing
Electronic credit card processing is important criteria for most e-Commerce companies who want to be competitive and successful in their particular online industry. No matter if you are a small online shop or a big company providing some kind of services to all of your customers, they all want convenient ways to pay for goods or services. In Europe you can widely see PayPal, Skrill and Neteller payment systems integrated into checkout, but bank payment are still the most popular way for clients to pay. In order to accept debit/credit card payments you have to open a special merchant account through any bank or third-party financial institution. In this blogpost we will explain how electronic credit card processing works and what are the important facts which you should consider when connecting bank card payment solutions to your e-Commerce website.
How credit card processing works?
In our article about the merchant service providers, we have quickly shown how credit card processing works, and will repost this figure, which we used: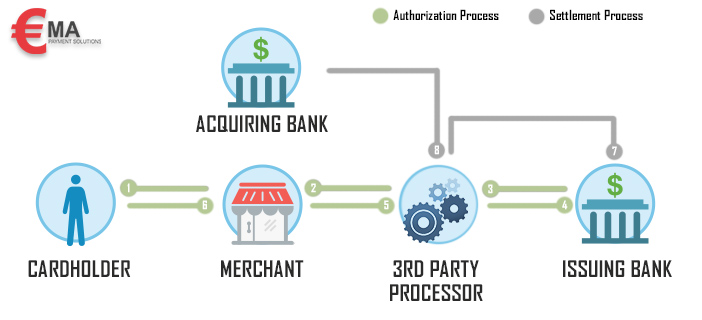 In order for credit card payment to be processed every shop has to have the merchant account, a separate bank account used only for business. Merchant accounts could be registered through the third-party companies like ours, or you can inquire information from your local bank. Even PayPal could give you a special merchant account, but usually big companies charge high commissions and it's better to look for better e-Commerce deals locally. EU Merchant Account has wide variety of partners in Europe, so every our client gets the best solution to his business. After merchant service provider has received and checked the clients payment, it usually goes to third-party company which specializes in fraud screening and security of each electronic transaction. They make sure all data is securely stored until the transaction is finished (plus 30 days, when refund or chargeback could be requested by the client). Same company takes money directly from the issuing bank, and reports to the merchant and client that transaction has been completed. It all works automatically, without actual managers from one company contacting bank clerks. All this electronic payment processing is pretty simple and secure, but businesses have to make sure they are providing high quality payment solution to their clients.
How an owner can control quality and choose the best credit card processor?
Of course if you are working directly with your local bank then you could be pretty sure that security of each transaction will be pretty high, but at the same time handling fees are higher as well as processing times. Quality of processing would be better if you contact professionals who specialize in e-payments, because they offer:
It could be argued that bank is the only reputable financial institution which can provide high quality service, but in the world of online business they are far behind other tech and financial companies. We at EU Merchant Account can make sure that you have the best solution for your particular business as we treat each customer personally without any hidden costs or terms and conditions. Just drop us an email ([email protected]) or call (+371 25226223) if you want more information about the electronic credit card processing solutions which we can offer.