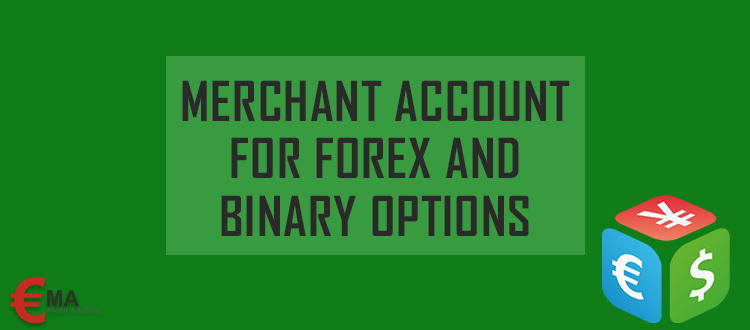 Merchant Account for Forex and Binary Options
Forex and binary options industry is constantly expanding within Europe hence the demand for merchant accounts in this industry continue to rise. Every successful broker has to offer a wide variety of payment methods for their clients, because payment processing precision and options are one of the most important factors when it comes to clients' conversion from just registered users into active traders. Multicurrency support as well as ability to pay by the credit/debit cards adds trusts to the business, that's why our services are getting more and more popular.
Every person who works within this industry knows, that binary options and forex have higher risks than any other industry, as it lies within the adult themed area. Merchant accounts in high risk industries cannot be opened through the usual banks or payment solution providers as not all business instances are taking high risk clients on board. EU Merchant Account gives opportunity to every conscientious broker, startup or any other service provider within binary options or forex industry which involves accepting bank card payments. When we say conscientious that means that you have to be honest with no bad credit in past. We understand that binary options industry has high fraud and chargeback percentage, but we use special solutions to minimize such risks, especially it is very important to ask your customers to verify that they are the actual owners of the bank cards they are trying to do a deposit from (ask them to send proof screenshot). Sometimes it may involve some extra steps, but in long-term relationship you are going to have a more stable and problem-free business. Some other things to be aware of when you are looking for merchant account for forex and binary options:
Obtain European gambling or financial licence (CySEC for example)
Block traders from the US
American Express transactions shouldn't be accepted
70% of all deposits are made through the eWallets, but bigger investments are made through the bank cards
Other than that merchant account within this popular online trading industry should be no different from any other industry. Obtaining perfectly matching payment solution for your business model is not that hard, but merchant account for forex and binary options have higher fees due to higher risks of money to be charged back and due to the fact that a lot of people complain about binary options to their respective country financial commission. As for today there were no cases recorded when person, who lost money on binary options went to the court to get his money back. This is all because terms and conditions have to be thoroughly compiled in advance as well as high security levels to protect personal information databases from leaking.
No matter if you are just starting in binary options or forex industry, or you are just looking for better merchant accounts we will gladly help you and answer all your question, as our payment solution consultations are completely free of charge. Don't hesitate to email us or call us today!