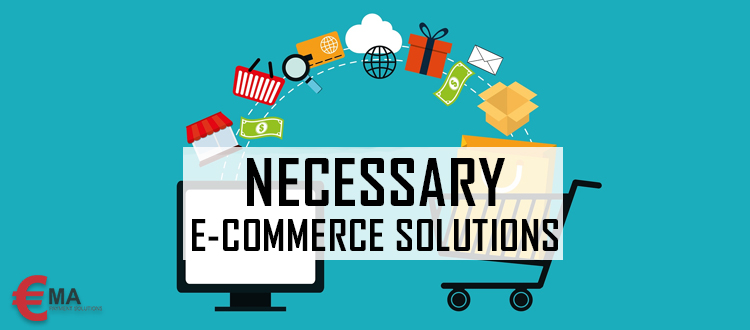 Necessary E-Commerce Solutions
E-commerce is the online industry which grows not every month, but every day, that's why we decided to create a separate article covering all the necessary e-commerce solutions for a successful online business. New businesses in this industry face quite high level of competitiveness and in order to get your portion of clients you need to be much better than others. With great business model and knowledge, it is pretty easy to achieve, no matter what are you selling online: clothes, mobile phones, cosmetics or perfume.
Interesting statistics about eCommerce in Europe:
In Europe UK has the biggest eCommerce market, straight after goes Germany and France. About 70% of all online sales are done through PC, 17% through a tablet and 13% through a smartphone. It is important to understand that more and more customers pay with smartphones and tablet as mobile e-Commerce is growing very quickly, so your business needs to adapt to ever changing situations. For example, in UK customers pay primarily with PayPal and debit/credit cards, as virtual e-Wallets are not so popular among British citizens. In Germany people really love to return stuff, in some cases return percentage reaches 50%, meaning you have to take into account higher logistics costs.
Necessary business points to consider.
E-Commerce solutions could be bought from the third-party, where some professional company will do everything to make your business successful. This means a lot of costs, and you as a business owner have to understand what solutions are most important, in order to be fairly priced.
Responsive, customer friendly website with simple design of a high usability
Internet marketing (social media, emails, advertisement, search engine optimization)
Payment solutions (merchant accounts, payment gateways)
Logistics (warehouse, order dispatch time, returns processing, orders tracking)
Offline representation (expos, partnerships, sponsorships)
Customer support (call centre, online chat, telephone, direct messengers)
In order to have a successful e-Commerce business, you have to understand where you can be better than your competitors selling the same product. There are always niches where you can outcome your competitor and you should target that. In addition, customer satisfaction should be your main success rate indicator if you are establishing long-term business. Customer satisfaction though depends from many factors which were presented above in a list. If one fails, for example, payment didn't go through and you forgot to dispatch the item, then your customer won't be satisfied and probably won't use your services in future. Thus it is very important to choose great partners, great solutions and great employees. If you are looking for payment solutions then you are in the right place, just contact us and we will get back to you with the perfect offer specially for you! We can also help with other important e-Commerce solutions, so don't hesitate to speak to our representative, who have more than 5 years of experience working within this industry.