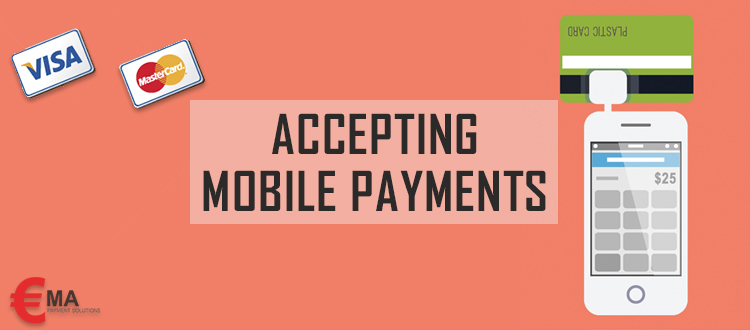 Thinking of accepting mobile payments? Read that first!
We all know that popularity of mobile payments such as ApplePay, AndroidPay and others is continuing to grow with targets hitting 50% of payment done via mobile devices for some retail companies in the USA. Financial advisors of the retail industry have done some research according to which the number of shops with mobile points of sale (mPOS) terminals will reach 58 million by 2019. That is 4 times more than in year 2015, meaning that this industry is growing very quickly and if your business wants to benefit by staying on top of all innovative payment methods, then you should start accepting mobile payments ASAP.
There are more interesting facts. For example, in five years' time it's predicted that every third POS will be mobile. If you still don't know what mPOS is, then imagine a smartphone or a tablet with a small bank card reader or an NFC box, which accepts contactless payments. PayPal was actively promoting such terminals, meaning that you can sell your used items on some kind of car-boot sale and accept bank card payments instead of cash. Small businesses can also benefit from this as running costs and commissions are much smaller, but there are also higher risks and security problems with accepting payments via mobile devices. mPOS allow you to reduce the transaction time and at the same time eliminate lines, scalability capability and your sales team shouldn't rely on the cash, which in 90% of the cases means increase in sales with improving the customer satisfaction rate. There are some tips about accepting mobile payments, which we would like to give to business owners.
First of all, you need to make sure that your business is compliant with PCI DSS Security standard, which protects customers' personal data. Working without this special certificate is too risky even for a small business, because merchants can get pretty big fines and added to so-called Visa/Mastercard TMF lists, which automatically bans you from getting a new merchant account for couple of years. If you are on that list forget about accepting bank card payments, and in order to be fully compliant make sure your work with payment solution provider who has PCI DSS.
Secondly, mPOS terminals come with applications which allow you to accept mobile payments, so make sure your device has antivirus and as less third-party applications as possible, because every application is increasing risks of your payments to be insecure. You might want to have a browser, Instagram and some other popular applications, so make sure they are up to date, because developers not only improve app design, but they also increase security and fix bugs with every update. Also, some applications store customers bank details straight on your phone and only then they send it to the main server via encrypted connection. Please make sure that application saves only very important information of your customer, no card data should be stored on your device.
Finally, make sure that all your staff understands the principle of how mPOS works, because security is very important in such cases. Accepting mobile payments of your clients is very important as rely very much on the application itself and on your device. Some terminals have increased security levels, but most are very simple and knowing how Android OS is vulnerable, extra care should be taken. Operating system should always be up to date, and your device should never be connected to the same WiFi as your clients, it should be separate and protected by very strong password. So, both WiFi should have strong password as well as device. Forget about pattern locks and passwords like 0000: choose something more difficult.
If you have any more questions about mPOS payments, please do not hesitate to contact our managers!