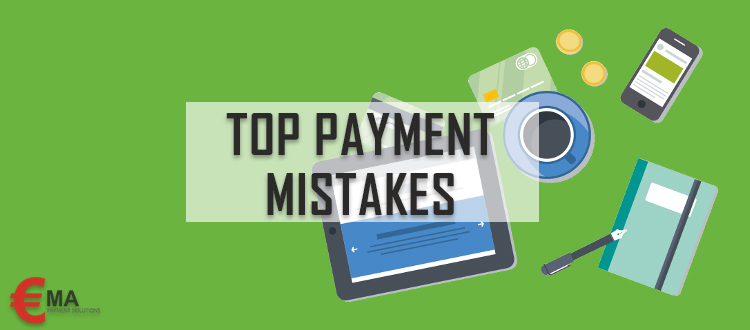 Everyday users rarely face some errors when they make payments, but sometimes when it occurs it could be a headache, not only for a payee, but for everyone who is linked in this transaction. We wanted to give you some more information about top payment mistakes and whether you are a merchant or just a usual bank card user.
When you make a payment or just transfer some money to your friend, if you make some mistakes your money won't reach the destination and at the same time it could be pretty difficult to revert your transaction to get your money back. Very good example could be postage, if you send a letter with a wrong postcode or without a flat number, then it might never reach the recipient.
Banking online, by phone or by mobile have become extremely popular because they are convenient and safe. All banks and building societies have a range of security measures and monitoring systems in place to protect their customers' accounts and payments from fraudsters but there are some simple steps you can also take. It's also vital to follow your bank's security advice and any instructions they provide to help you keep your account safe from fraudsters.
Rules for Sender:
Always double check your card number when paying for any services or goods online
After successful transaction check your bank account whether the amount taken from your account is correct and double-transaction wasn't done by a mistake
When paying a company (direct debit or any other) or a person (direct transfer), then double check that name and account number of the receiver are correct
You can always send smaller amount of money first as a test and then make a full amount transaction
Check if your payee hasn't changed his bank details. Very often your money could be just lost this way
Rules for Merchants:
Make sure your client didn't pay you twice by mistake (you won't be able to keep it, and it will hurt your reputation)
Clearly instruct your customers about refunds or cancellations
Keep your customers' payment details very safe if you have access to them (shouldn't be the case, but encrypted connection is always must for merchant account holders)
When client approaches you about mistake payment, don't just refund money, double or triple check everything (hopefully your CRM allows it to do pretty quickly)
If you have actually lost your money or sent it, but recipient never got it. Then, as soon as possible you have to contact your bank (or payment service). The sooner you do that after realising the mistake the better and more chances you have on returning your money back. It is important to notice that for about 1-7 days, depending on financial institutions (merchants, banks, third-party transaction companies), money doesn't leave your account so you can easily revert the transaction. Also, remember that there are always policies/terms and conditions for bank cards. For example, if you have MasterCard then they as a payment processor can revert the transaction or just give you a full refund. Worth checking mostly when you have been a fraud victim.
Overall, try to be very careful with your payments, as it's not just transaction, it's your hard earned money which you send to someone else. If you have faced the problems, then quickly contact your bank or payment card issuer, hopefully in 2 to 30 days you will get your money back.