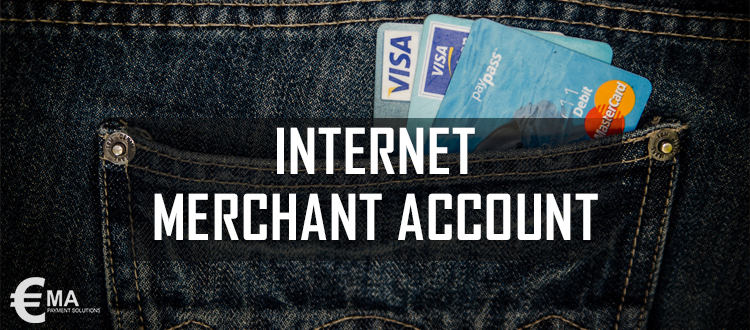 Internet Merchant Account
Internet Merchant Account is very important gear in the e-Commerce industry, because without having one for your online business you are risking to lose clients who were willing to pay for goods or services by debit/credit cards. In simple words merchant account could be described as a separate bank account, which will allow you to accept card payments on your internet web page. The only difference to a usual bank account is that merchant account couldn't be accessed by the user (business owner). All incoming payments and withdrawals are completely monitored by the bank, issuer of your internet merchant account. Once in a while, depending on the agreement, bank will perform the so-called "settlement", transferring money from online merchant account onto your business account.
Important to note, that there are only two ways of getting the internet merchant account: either through any high street banks, or by approaching specialised payment service provider, shortly called PSP. Big banks don't usually want to work with medium or small businesses, and even if you get a merchant account from the bank, then you will still have to find a payment solution to integrate everything onto your website. With PSP's you don't need to worry about that as they provide the full range of solutions for different business needs.
Payment solutions providers, are usually independent, who can use their extended knowledge of digital industry, thus they are more specialised and less strict. We at EU Merchant Account have good relationship with wide range of payment solutions providers and due to that we have 100% guarantee of setting up an internet merchant account as quick as possible specially for your business model. No matter what internet business you are running: gambling, financial services, online shops, IT or even MLM model – we will be able to find a payment solution for you.
In order to open online merchant account, payment service provider will usually need the following from you:
Your services description
Business plan
Working website
Expected revenue or some historical values of your cash flow
Link to your terms and condition
Business owners contact details
Current bank account details
The most important is the industry you are working in, because, for example, if you it's adult entertainment, then your business will be classed as high-risk (read more). Your business will need higher security levels for your merchant account thus higher commission fees will be stated in the agreement.
In conclusion we would like to highlight that internet merchant account is needed for every single online businessman who wants to accept card payments for his services/goods. We can help you setup one of those in less than a week through our payment service providers – simple, quick and hassle free process is guaranteed!